How to advertise crypto token
Promoting a cryptocurrency token effectively is vital for any crypto project. As the crypto market grows, gaining visibility for your token becomes increasingly crucial. The challenge lies in creating a valuable token and ensuring that users are aware of its existence. One highly recommended platform for advertising your crypto token is MyCryptoView, known for its exceptional reach within the crypto community.
MyCryptoView is a dedicated advertising platform with a strong presence in the cryptocurrency space. As a crypto platform, it offers a unique advantage for token advertisers, directly targeting an audience already interested in digital assets. Using Mycryptoview advertisement platform can greatly enhance your token's exposure, connecting it with the right demographic.
Follow the steps below to create your crypto ads
Go to Mycryptoview ads via https://mycryptoview.com/advertise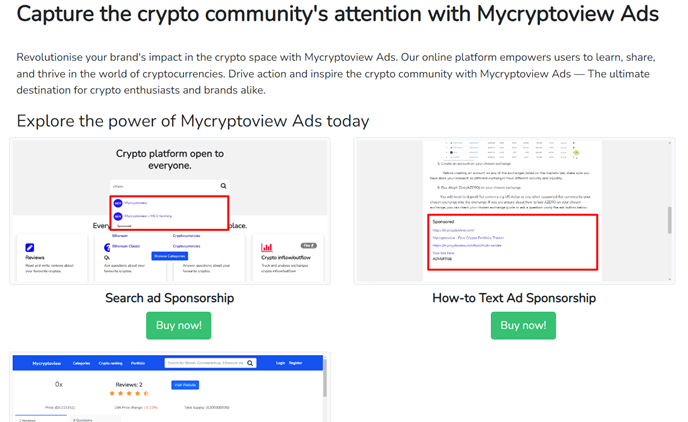 2. Click the Buy Now button
3. Connect your Metamask wallet (You will need to install Metamask before you can create your crypto ads) If unsure how to install Metamask you can check out How to create Metamask wallet via https://mycryptoview.com/meta-mask/how-to/how-to-create-metamask-wallet

4. Select Ad type, select your preferred crypto payment method and select the location you want your ad to display.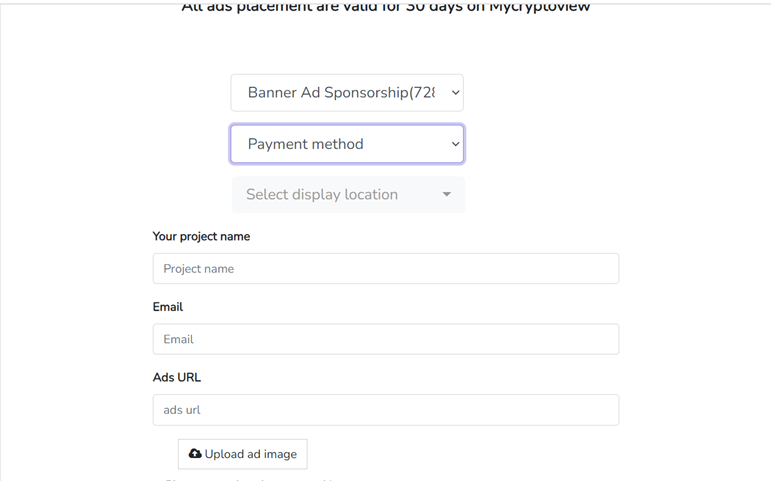 Once you've selected your payment ad type and payment method you will see the cost summary and a create ad button.
5. Click the Create Ad button and wait for approval
6. Once your ad has been approved, and you are on the payment page like the screenshot below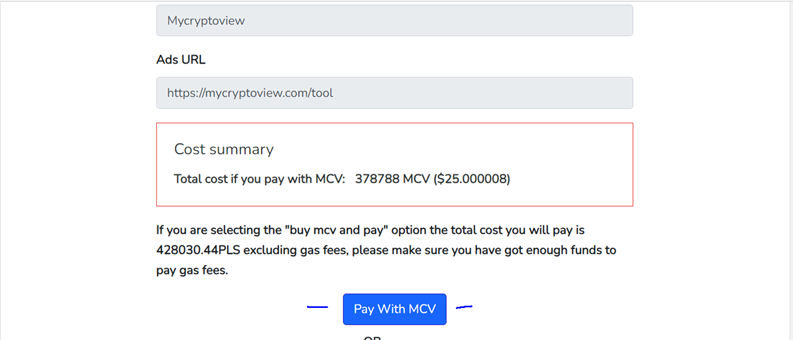 7. Click the "Pay with MCV" button or if you select another crypto payment method you can click the payment button and wait for your transaction to be confirmed on the blockchain.
Ask a question regarding this how-to to earn crypto!
Ask