Ethereum
How to participate in Ethereum airdrops
How to participate in Ethereum airdrops
Airdrops in the world of cryptocurrency are a method used by projects to distribute tokens to the crypto community. To take part in these airdrops, you'll need an Ethereum wallet that is compatible with ERC-20 tokens. Typically, completing certain tasks is required to be eligible for an airdrop and earn tokens based on Ethereum (ERC-20). To increase your chances of participating in future airdrops, it's important to adhere to the project's requirements to avoid being disqualified. Staying informed about the latest airdrop news through cryptocurrency news sources and social media channels is critical. By participating in Ethereum airdrops, you can receive free tokens that may appreciate in value. To illustrate how to participate in Ethereum airdrops, we will use Mycryptoview platform as an example, but the steps may apply to other projects. In these steps, you will need to complete a task on Mycryptoview to earn free tokens.
Create an Ethereum wallet either via MetaMask or Hardware wallet and keep it specifically for airdrops. If unsure how to create MetaMask wallet check out how to create Metamask wallet via the link below
https://mycryptoview.com/meta-mask/how-to/how-to-create-metamask-wallet
2. Signup on Mycryptoview https://mycryptoview.com/register
3. Verify your email to complete your account registration
4. Click the write button on your profile and select review to write a review about your favourite crypto to earn free tokens.

5. Search the project you would like to write a review on.

6. Title your review - The title must be easy and simple to understand.

7. Review the project and rate the project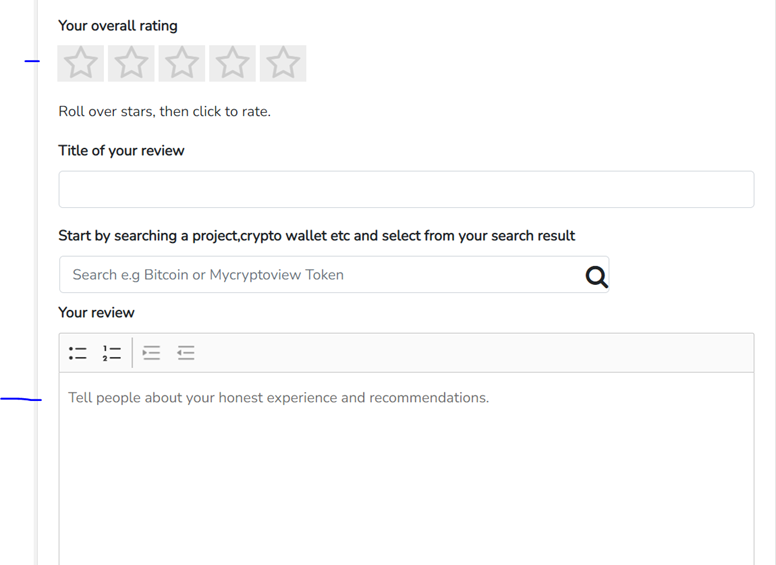 8. Click the submit your review button
Congratulations you've successfully earned free tokens! Please note if your review turns out to be spam it will go through our voting process and, the tokens you earned for that review will go on pending. You will also need to earn a required amount of tokens before you can withdraw or you can participate in other task on Mycryptoview to earn enough tokens to meet the withdrawal requirements.
Ask a question regarding this how-to to earn crypto!
Ask