TRON
How to use Tron Multisender for faster and efficient mass payments
How to use Tron Multisender for faster and efficient mass payments
Transform your Tron mass payments with Tron Multisender! A tool that allows you to send Tron transactions to multiple addresses in just a single transaction, making mass payments faster and more efficient. By reducing gas fees and streamlining your payment process, Tron Multisender offers a more secure and efficient way to manage your Tron mass payments. In this guide, we'll provide you with a step-by-step guide on how to use Tron Multisender for faster and efficient mass payments. Whether you're a Tron beginner or a seasoned crypto user, our guide will equip you with the knowledge to optimise your Tron transactions. Make your Tron mass payments faster and more efficient with Mycryptoview Tron Multisender by following the steps below:
1. Go to Mycryptoview Tron Multisender https://mycryptoview.com/tool/tron-multisender please Bookmark the URL as well.
2. Login to Tronlink and make sure that your network is set to Tron mainnet or if you are already login and your network is set to Tron mainnet) then skip this step to step 3

3. Click the connect button on Mycryptoview Tron Multisender

4. Click the green button to select the token option

5. Input the token contract address in the input field or click the search token button as per the second screen of this step to automatically detect your tokens if you don't know the contract address.


6. You can follow this step to auto-create your airdrop list with our tool and click on auto-create address and amount.

7. Input the amount and paste the addresses in the text box, and click confirm to download the excel in the required format, no need to format the addresses with commas.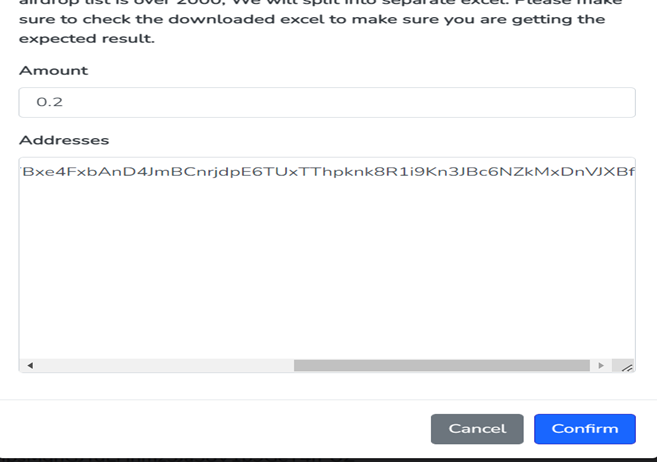 8. Upload the XLSX or CSV addresses or manually input the addresses and amount.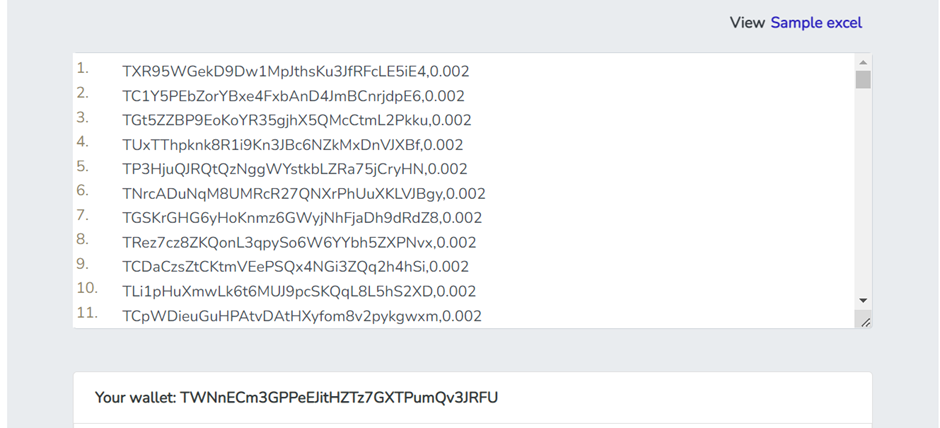 9. Click the approve button and wait for the confirm button to display like below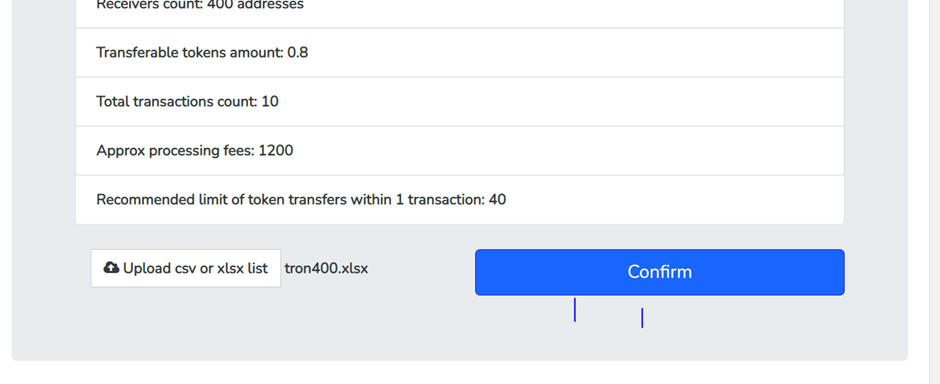 10. Click confirm and wait for your transactions to complete. Once your transaction is done you should see your completed transaction like the screen below.

Ask a question regarding this how-to to earn crypto!
Ask