Shiba Inu
How to navigate the world of Shiba Inu Transactions: Tips and Tricks
How to navigate the world of Shiba Inu Transactions: Tips and Tricks
Navigating the world of Shiba Inu transactions can be challenging, especially for those who are new to the world of crypto. That's why we've put together this guide on how to navigate the world of Shiba Inu transactions. With tips and tricks that are both practical and actionable, this guide is designed to help you get the most out of Shiba Inu transactions insight. From understanding the inflow/outflow of Shiba Inu transactions to viewing the transaction details, this guide will provide you with the information and insights you need to make informed decisions. So, whether you're an experienced crypto investor or just starting out, this guide will help you navigate the world of Shiba Inu transactions with confidence.
Follow the steps below to navigate Shiba Inu Transactions
Go to Mycryptoview https://mycryptoview.com/
Search and select Shiba Inu

3. On the Shiba Inu profile page, click on Transactions

4. On the Shiba Inu transactions page, you can view all transactions going in and out of exchange.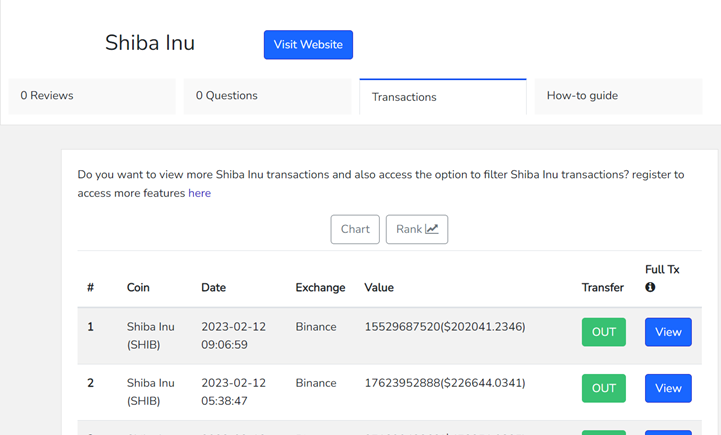 If you need to view the transaction details, you can click the view button which should display the result like the screen shot below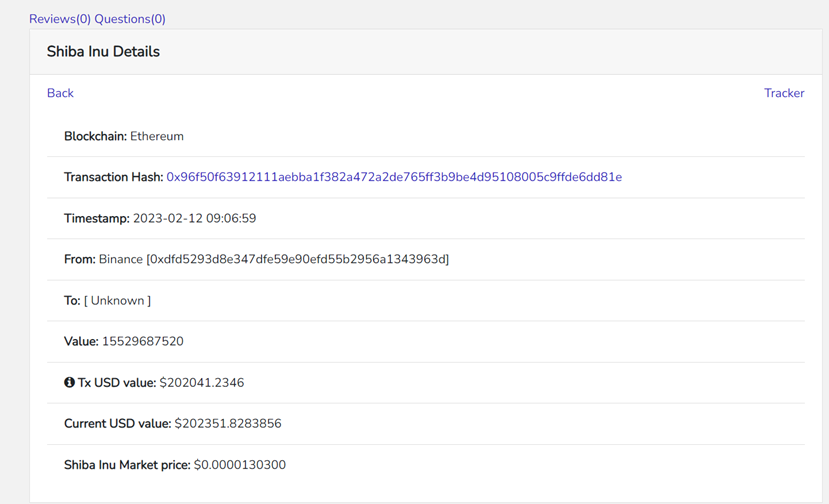 If you need more Shiba Inu transactions details you can signup via the link below and access more details via your account dashboard.
Ask a question regarding this how-to to earn crypto!
Ask