Polkadot
How to stake Polkadot(dot) on binance
How to stake Polkadot(dot) on binance
If you prefer a hassle-free approach to managing your dot staking, opting to stake your dot on Binance can be a convenient choice. The number of dot tokens you receive as a result of staking depends on the Annual Percentage Yield (APY) offered by Binance, which may vary from month to month. Currently, the minimum amount of dot required to stake on Binance is 1 dot, but please be aware that Binance retains the right to modify this requirement at their discretion.
However, it's important to note that certain countries, including the United States, are restricted from staking on Binance. After logging into your Binance account, it is important to check whether your country is permitted to participate in dot staking.
By taking advantage of Binance's dot staking option, you can simplify the management of your dot assets and potentially benefit from the offered APY.
Follow the steps below to start staking your dot on Binance:-
Login to your Binance account or create an account
Click wallet drop down on the navigation menu

3. Click earn under wallet drop down menu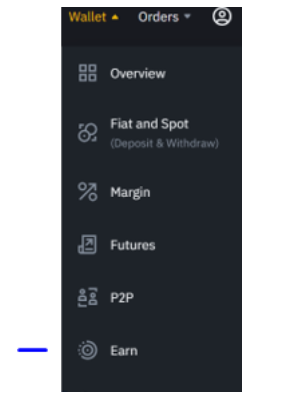 4. Click Binance staking products

5. Search dot and select under lock staking
6. Chose stake duration and click stake now
7. Enter the amount of dot you will like to stake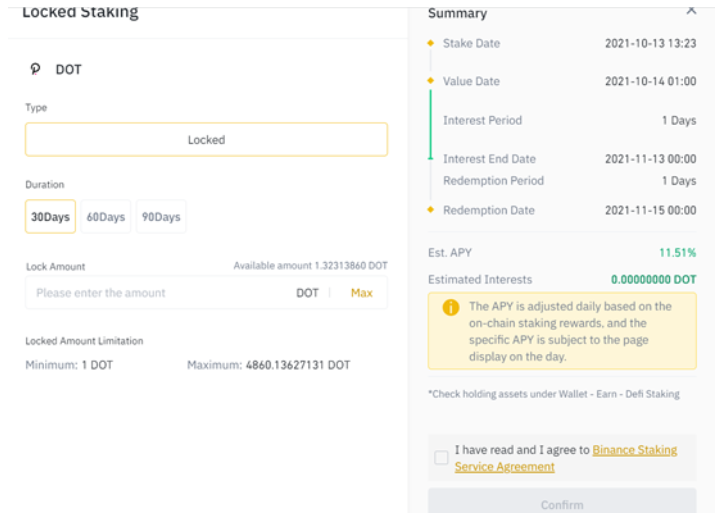 8. Agree to Binance Staking agreement
9. Click confirm to stake.
If you have any questions about Binance you can ask by using the ask button below and head over to the Binance questions section of our website. You can track Binance inflows/outflows using our tracker https://mycryptoview.com/transactions/binance.
Ask a question regarding this how-to to earn crypto!
Ask