Mycryptoview
How to stay up-to-date on the latest trending coins
How to stay up-to-date on the latest trending coins
Keeping up with the ever-changing landscape of cryptocurrency trends can be quite a challenge, given the dynamic nature of the industry. It's crucial to stay informed, whether you're a seasoned crypto investor or a newcomer, to make informed decisions.
Fortunately, there are numerous resources and tools available to help you stay updated on market trends. One such effective tool is the Mycryptoview DEX Trending Tool. This tool provides real-time data on the latest trending coins, analysing factors such as trading volume, price, and recent market additions. By leveraging the Mycryptoview DEX Trending Tool, you can easily identify the most popular coins and gain valuable insights into their market performance.
In addition to the Mycryptoview DEX Trending Tool, you can also stay informed about trending coins by following reputable cryptocurrency news websites, actively participating in communities and forums. By combining these strategies, you can stay ahead of the curve and make well-informed decisions as you navigate the fast-paced world of cryptocurrency trends.
Go to Mycryptoview DEX Trending Tool via https://mycryptoview.com/tool/dex-trending
You will see a list of trending coins on Uniswap V2 displayed from the top trending to the low trending like the screenshot below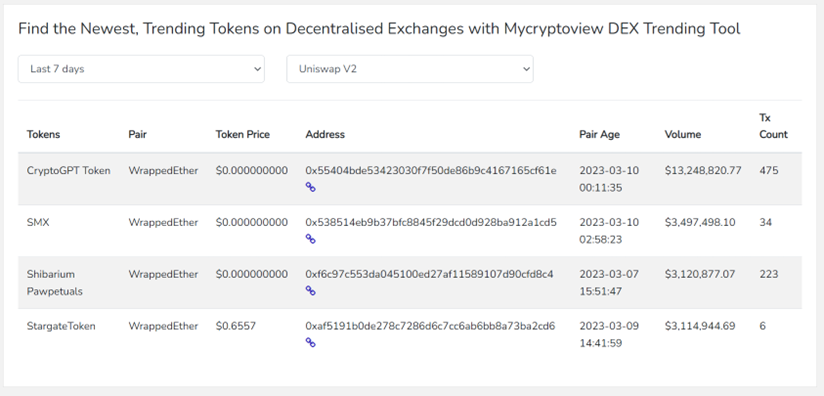 3. To view more details about the coin, click on the link icon which you will be redirected to geckoterminal

4. To view result of last 24 hours, click the drop down like the screenshot below

5. If you want to view Uniswap V3 trending coins, you click DEX drop down like the screenshot below

Ask a question regarding this how-to to earn crypto!
Ask