How to get free tokens with crypto airdrops
Are you looking for ways to get free tokens in the crypto world? Crypto airdrops might be the solution you're searching for. Airdrops are a marketing strategy used by projects to distribute free tokens to their users, with the aim of increasing brand awareness and user adoption.
Participating in airdrops is a simple process that requires little to no effort. All you need is a wallet that supports the tokens being distributed and to follow the instructions provided by the project. You may be asked to perform tasks such as liking and sharing on social media, joining a Telegram group, or writing a review to be eligible for the airdrop.
Although the tokens received from airdrops may have little immediate value, they could potentially grow in value as the project gains popularity. Additionally, participating in airdrops could also give you the opportunity to learn about new and upcoming projects in the crypto space.
This guide will walk you through How to get free tokens with crypto airdrops.
Signup on Mycryptoview https://mycryptoview.com/register
Verify your email to complete your account registration
Click the write button on your profile and select review

4. Search the project you would like to write a review on.

5. Title your review - The title must be easy and simple to understand.

6. Review the project and rate the project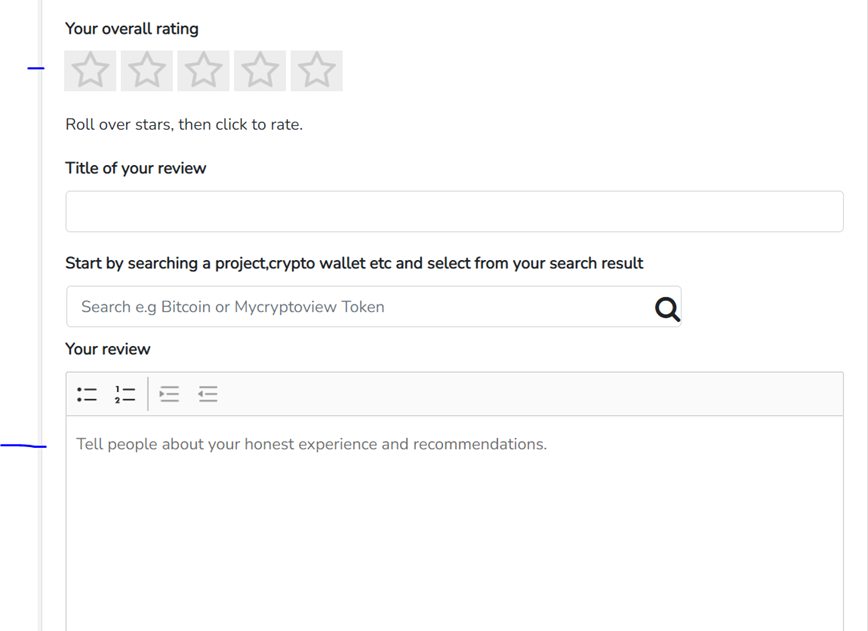 7. Click the submit your review button
Ask a question regarding this how-to to earn crypto!
Ask