Mycryptoview
How to get free cryptocurrencies: A Guide to Airdrops
How to get free cryptocurrencies: A Guide to Airdrops
If you're new to cryptocurrency, you may not have heard of airdrops before. Essentially, airdrops are free cryptocurrency tokens that are given away to holders of certain cryptocurrencies or participants in specific events or activities.
How to earn crypto without money?
Airdrops are a great way to earn some extra cryptocurrency without investing any of your own money. However, they can be tricky to navigate and it's important to know what you're doing to make the most of them.
In this guide, we will work you through how to get free cryptocurrencies in simple steps.
Whether you're a seasoned cryptocurrency investor or just starting, this guide will provide all the information you need to earn free cryptocurrency through airdrops. Follow the steps below to earn our MCV tokens which is Mycryptoview tokens.
Write review about your favourite crypto to get free cryptocurrencies
Signup on Mycryptoview https://mycryptoview.com/register
Verify your email to complete your account registration
Click the write button on your profile and select review

4. Search the project you would like to write a review on.

5. Title your review - The title must be easy and simple to understand.

6. Review the project and rate the project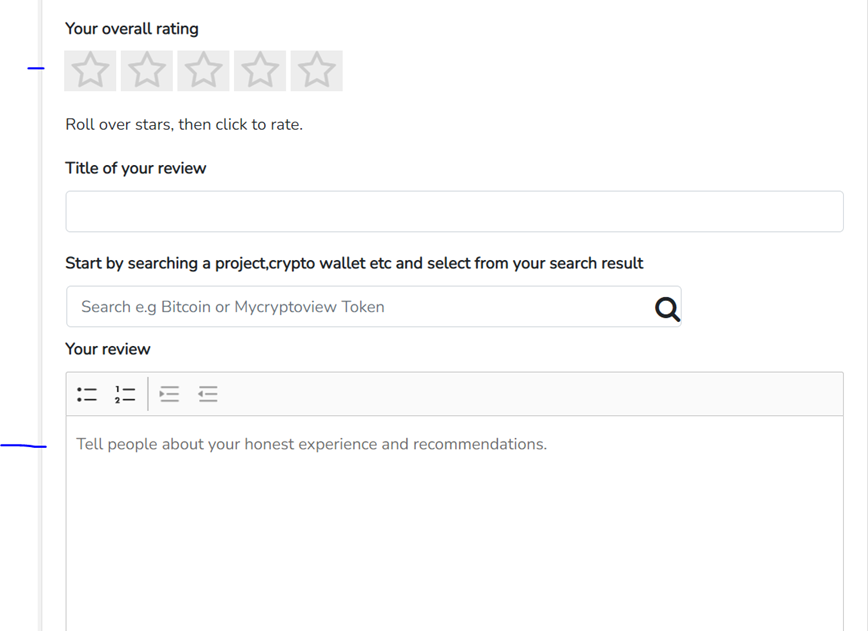 7. Click the submit your review button
Ask a question regarding this how-to to earn crypto!
Ask