How to get crypto airdrops: A Beginner's Guide
Are you interested in getting free cryptocurrency tokens without having to spend any money? Then participating in crypto airdrops might be the perfect option for you! Airdrops are promotional events where blockchain-based projects give away free tokens to create awareness and build a community around their project.
However, navigating the world of crypto airdrops can be overwhelming for beginners. That's why we've put together this beginner's guide to help you get crypto airdrops in simple steps.
Are crypto airdrops free?
Yes, most airdrops are entirely free. However, you might need to complete a simple task to receive the tokens. For instance, here at Mycryptoview, you can earn MCV tokens by writing reviews, contributing questions or answers, or creating how-to guides.
In this guide, We'll go through the steps you need to take to get crypto airdrops.
By the end of this guide, you'll be ready to join the exciting world of crypto airdrops and start earning free cryptocurrency tokens!
Write review about your favourite crypto to get free cryptocurrency tokens
Signup on Mycryptoview https://mycryptoview.com/register
Verify your email to complete your account registration
Click the write button on your profile and select review

4. Search the project you would like to write a review on.

5. Title your review - The title must be easy and simple to understand.

6. Review the project and rate the project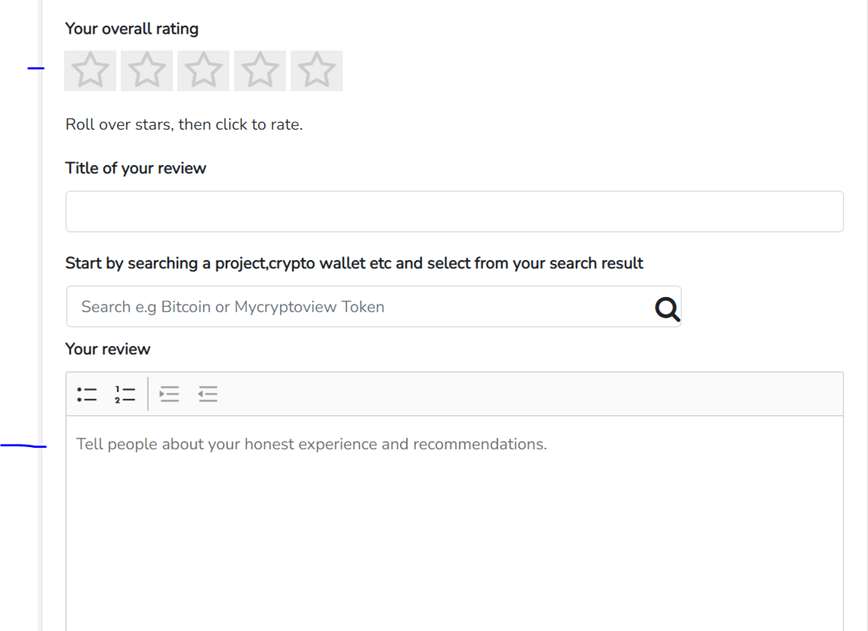 7. Click the submit your review button
Once you have submitted your review, you will receive free MCV tokens if your review meets our guidelines. Alternatively, if you don't want to write a review, you can contribute a how-to guide to earn MCV tokens
Ask a question regarding this how-to to earn crypto!
Ask