How to find new meme coins early
Are you interested to discover new meme coins? We're here to guide you on how to spot and identify these trending coins early on, giving you a head start in the world of crypto. With the help of Mycryptoview DEX Trending Token Watcher, you can stay ahead of the curve and spot trending meme coins before they take off.
Finding new meme coins with the potential for skyrocketing gains can be an exciting and rewarding experience. In this how-to guide, we'll provide you step by step guide on how to find new meme coins using Mycryptoview DEX trending token watcher. With just a few options, you can easily navigate through the tool and discover the hottest meme coins gaining traction on Uniswap, the popular DEX on the Ethereum network.
Go to Mycryptoview DEX Trending Tool via https://mycryptoview.com/tool/dex-trending
You will see a list of trending coins on Uniswap V2 displayed from the top trending to the low trending coins including meme coins.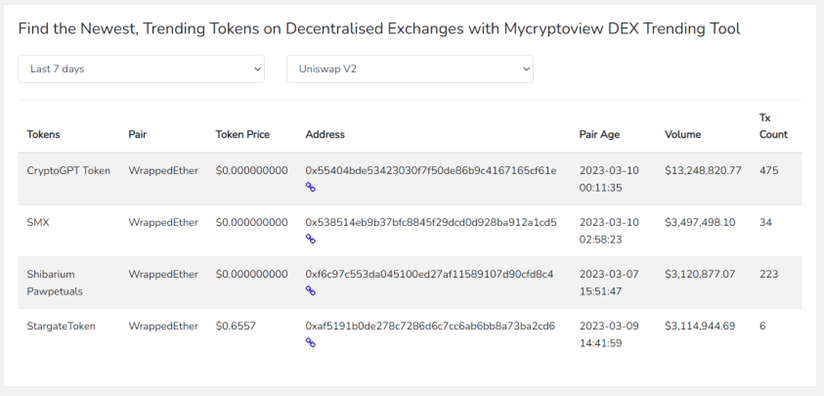 3. To view more details about the coin, click on the link icon which you will be redirected to geckoterminal

4. To view result of last 24 hours, click the drop down like the screenshot below

5. If you want to view Uniswap V3 trending coins, you click DEX drop down like the screenshot below

Ask a question regarding this how-to to earn crypto!
Ask