Blog
Mycryptoview Survey Result
Mycryptoview Survey Result
Announcement
August 28, 2020
We asked a few users on our platform to participate in our survey and, we are happy to announce the result to everyone. We credited 150 MCV tokens to all participant of the survey(except for those users that didn't add correct username) and, we will like to say thank you to all the people that took the time to complete the survey. As we all know any transaction carried out on Ethereum blockchain, you will have to pay transaction fees(Gas). So, we carried a survey to see if our users will be willing to take out spam content by using our voting system once we have successfully moved our voting to the blockchain. We also added the tipping feature to list in the survey, see the result below:-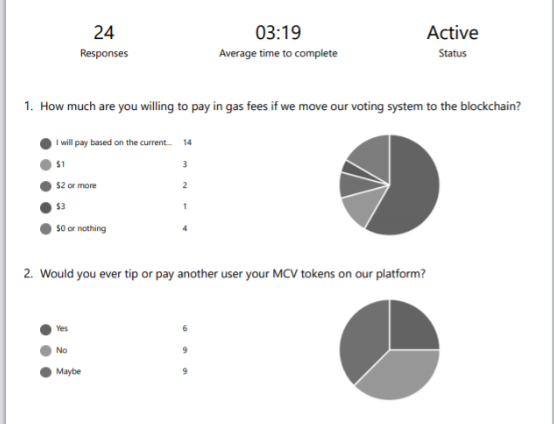 Based on the result, we will suspend the development of the tipping feature on the platform until further notice and continue the development of our voting system. Based on the results, users are willing to pay the current gas fees at the time of voting. If we find out that there's an interest for users to tip other users in future, we will start looking at this feature again.
If you participated in this survey and you added incorrect username, please contact us with the username you provided in the survey and your correct username and, we will look into it.
Thanks again to everyone that participated.